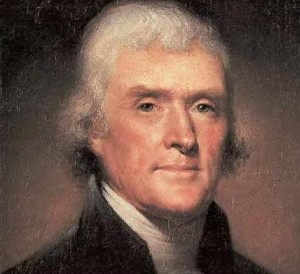 In his letter to Thomas Jefferson Smith in 1825, Thomas Jefferson included the following two items in his Decalogue of Canons for Observation in Practical Life:
"Never put off until tomorrow what you can do today."
"Never trouble another for what you can do yourself."
Just as with our friend Confucius, TJ's wisdom applies to your business web presence.
In web context the translation is this: Eliminate the bottlenecks that slow down and reduce efficiency in your web content publishing process. i.e. : reduce unneeded expenses of both time and resources.
Everyone is a content contributor—or needs to be. Why send word processor documents to a webmaster for translation to "Internet language," when you can handle most of the work yourself in your content management system (CMS) , having authors self publish? Yes, there are times when you might want the kind of relationship with your webmaster where he does certain things for you that you could do yourself. However, if someone's time is more valuable spent programming and working on databases and web servers than acting as an administrative assistant, shouldn't you strive to work that way?
With CMS, you can often publish web information as easily as you can write it on a word processor. That's the kind of process CDLLC implements, and you should ask us how simple it would be for us to do it for you.
Save time. Increase efficiency. Save money. Make your life and those of the people you work with easier and more satisfying.
Or just keep throwing away money instead; your choice.
-Crockett Dunn
Owner CDLLC
-Jeff Yablon
Chief Operating Office, CDLLC
President
Answer Guy Central Business Support Services